The LITE guard Standard Trench Shields are great for domestic plumbing and maintenance work. With just 6 parts plus 8 pins and clips per shield they are capable of being dismantled within minutes and carried into backyard or restricted access areas. You can then assemble right next to the excavation or excavator. They come equipped with multiple points to attach adjustable spreader bars and all panels have 4 built in lift points. When lifting we recommend you use a 4 leg lifting chain or double lifting straps.
When assembling the shield you should first set the top two spreader bars slightly wider that the bottom spreader bars so the shield has a slight V shape. Then place in the excavation where it will be a tight fit in the top of the trench, but also be very easy to remove for the excavation.
This is the most popular LITE guard trench shield and suit all mini excavators from 2.5 to 7.0 tonne. With the available extension joiners you can stack them 3 deep. Alternatively you can also invert them for use in small shafts. They are available in 4 sizes: 1200 x 1200,  1800 x 1200, 2400x 1200 & 3000x 1200. The most popular size is the 2400 x 1200 and each panel weighs in at only 55kgs. Resulting in a fully assembled unit weighing in at just 135kgs. Spreader bars come in two sizes, 600 to 900mm & 1000 to 1800mm. There are other sizes on request.
The LITE guard mechanical system is superior to hydraulics as there is no need for any water on site. Therefore they cannot have a burst hose and are failure proof.
For Transport the LITE guard trench shields fit in the back of your Ute, small tray truck or a work van.
Great for all your maintenance work, sewer, storm water, water mains, gas services, below ground electrical services and any minor excavation.
If you have any questions about our Standard Shields contact our team.
Standard Trench Shield at a Glance
Machine size required 2.0 to 7.0 tonne
Can be stacked up to 3 high to 4000mm in depth
Can be inverted for use in small shafts
For use in dig and place
Can fit into a van or pick-up truck
Takes minutes to assemble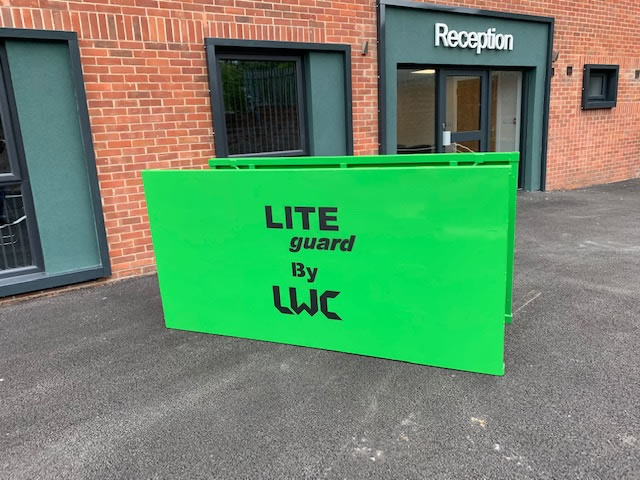 LITE guard Standard Shield Specifications
Panel Type
Panel
Length
Panel
Height
Safe Working
Load (kN/m²)
Panel Thickness
Under Strut
Clearance
Internal Clearance
Strut to Strut
Unit weight incl.
1000mm struts
Unit
2400mm
1200mm
20 to 50
56mm
Various
Various
146kgs
Unit
1800mm
1200mm
20 to 50
56mm
Various
Various
110kgs
Unit
1200mm
1200mm
20 to 50
56mm
Various
Various
80kgs