The City Box is a compact trench shield perfect for excavation in tight and limited access sites and roads due to the narrow panels. Allowing for maximum width and minimal backfill.
The LITE guard City box is what its called 'a full size light weight box'. These Trench shields are designed for in restricted tight City streets where smaller excavators can be used. Thus resulting in less disruption to city traffic. The boxes come in two sizes: 2400 x 2400 & 3000 x 1800. Additionally you can stack them 2 deep by inverting one box on top the other and installing extension joiners.
The boxes are designed for 'dig and place' work and have narrow panel walls with a great WLL of 30kNm2 & 45kNm2. Additionally the narrow walls ensure you don't need to have a larger excavation than required. Plus the City box will reduce the amount of Crushed rock back fill you need to use as well. Resulting in minimising your cost of repair.
The City box is the full size box you need without the panel thickness of  90, 100, or 150mm only 60mm per side. Assembled weights are 445kgs & 535kgs capable of being lifted by a 3.0 to 7.0 tonne excavator. Used by Plumbers, Drainage contractors, Ground workers, Councils, Utility companies, Sewer, Water, Gas, Electricity and Communications.
Working in the City or in any built up area's and need a full size trench shield to get the job done? Get a City box as there are no other shields on the market that allow mini excavators or back hoes to be in a position to use a full size trench shield and lift legally.
Both the City box and the Standard LITE guard shield were the first aluminium shields to be made to suit the mini excavator market. Allowing you to Work Safe and Lift Legally within the SWL of your excavators and back hoes.
If you have any questions about our City Box Trench Shield contact our team.
City Boxes at a Glance
Machine size in the 3.0 tonne to 7.0 tonne range
Can be inverted to allow for stacking
Rated at 30kPa & 45 kPa
For use in dig and place have flat bottoms, no cutting edge.
Easy to transport, either flat packed or assembled.
Small Truck, Work Van or the back of a UTE.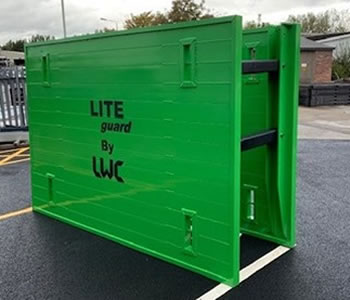 LITE guard City Box Specifications
Panel Type
Panel
Length
Panel
Height
Safe Working
Load (kN/m²)
Panel Thickness
Under Strut
Clearance
Internal Clearance
Strut to Strut
Total unit weight incl.
1000mm struts
Lower
3000mm
1800mm
32
56mm
800mm
2700mm
462kg
Lower
2400mm
2400mm
45
56mm
1100mm
2100mm
593kg